This is the last in a line of shop bench jobs I've had to do on shop bench equipment.
I built this supply in 1978 and rebuilt it in 1992. It gives 6.3v A+ voltage at 3 amps, variable regulated B+ voltage between 220 and 480v, fixed B+ at 580v, and C- (bias) voltage between 5 and 60v. If you work a great deal with tubes, especially in construction and rebuilding, a power pack like this is hard to do without. This one, unfortunately, often has to sit unused for long periods of time while I'm involved in other work, and that gives the caps a chance to go "soft" (develop high power factors, leakage etc). I call it "shelf rot."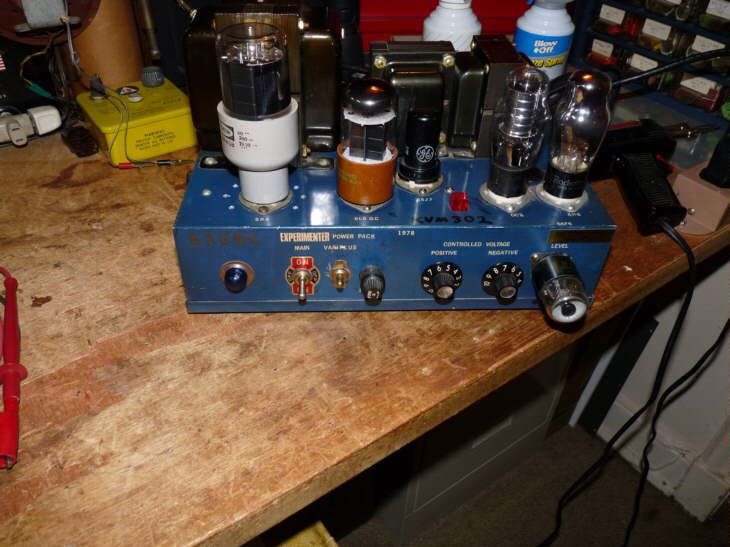 The power transformer is a Thordarson 24R15 and the two chokes are Thordarson 20C54's. The tubes are the notorious potato-masher 5R4WGB B+ rectifier, 5932 regulator (losser), 6SJ7 regulator control, 0C3 reference, 6H6G C- voltage rectifier, and a 6AF6G eye tube. Its shadows track the regulated B+ level and close at 500v.
Circuits for such packs as this can be found in the tube-era ARRL handbooks, the Orr Radio Handbooks, and many other places.
Thankfully there are no tight places belowdecks. The chassis is fan-cooled since the 1992 rebuild; the silver power transformer is for the fan; the bias power transformer is mounted on the right-hand apron. Since I found a number of soft caps in the B supply, I replaced them all. Bias supply and fan supply caps were all OK, so I let them be.
The unit has main fuse, B+ fuse, AC and B+ pilots, a standby switch, and a crossthrow line-reversing mains switch. Power is taken from a 6-pin tube socket on the right apron; I use multimeter-type probe leads to bring the voltages from the socket to the bench.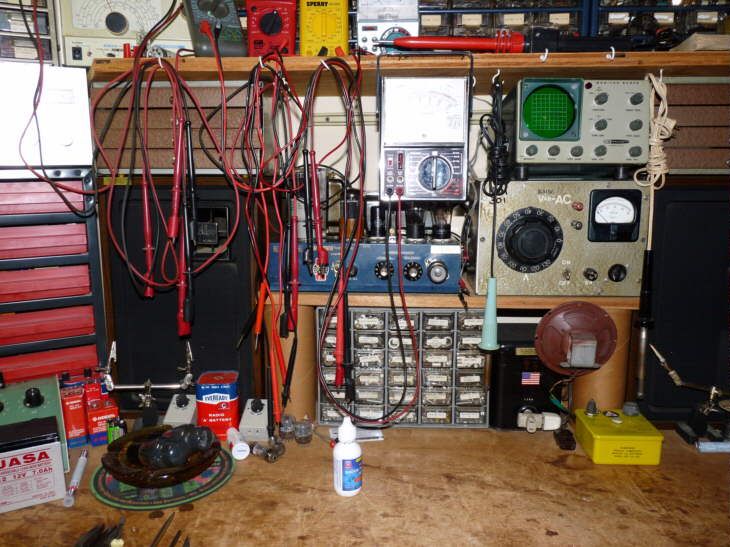 Back in its place beside the Variac pack (built in the late 1960's) and the Heathkit HO-10 monitor scope, another recent shop job.
It's the first time in a while I haven't had issues with at least one piece of my shop gear. It's a good feeling and I hope it lasts awhile...
Cold 807 time!
Larry

_________________


It don't make a go if it ain't got that GLOW!