Thanks.
I remembered I DO have my Mom's original radio in the garage attic and dug it out. Its so rough I figured anything I did to it testing glue solvents wouldn't make it any worse....
I tried some denatured alchohol since I've used that to get glue off painted surfaces before. It seemed to also take some of the dye out of the leather as well as the glue though. Then I tried some 3M adhesive remover. It got most of the worst glue off and only a bit of the leather dye came with, not as much as the alchohol did. So I used that on the "good" radio as it did not seem to leave a noticeable stain, etc.
Here is the rough one on the left and the recent nice one on the right.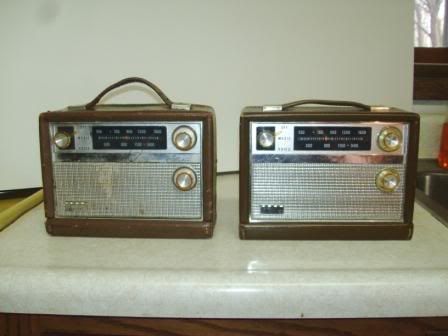 I also noticed there must have been a running change to these radios. My Mom's had tabs with female snaps on the case that went up and over the battery compartment flap on the back but the "new" one I just got has male snaps on the case and the female ones are on the flap itself. Also the earphone jack was moved. Everything else looks exactly the same. The snaps on my Mom's one are long gone after the leather tabs got ripped off from use. My Mom used that radio a lot. Its got a crack in the front bezel and also the PCB has been cracked and repaired. It must have gotten dropped hard at one time. The chromed plastic is worn down. There are paint spatters and its faded and gouged. I recall it spent a lot of time out in the garden with her back in the 60s and 70s.