Hi,
Yep, vertical, 2-sided play: Sharp sold this turntable in several configurations: The most basic one it sounds like you have, was a Sharp RP-114h (a.k.a. RP-114) stand-alone vertical turntable, as shown here:
Youtube vid demo:
http://www.youtube.com/watch?v=XOBXjrS_Rls
Other incarnations, as Ken G said, were the Sharp VZ-2000 and VZ-2500 ghetto blasters: (now THAT paints a picture of someone walking with this on their shoulder, record skipping...)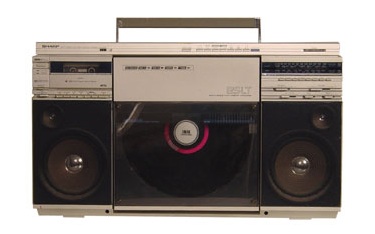 and the Sharp VZ-3000 and VZ-3500 integrated entertainment systems:
Not sure from your post what info you're looking for - resale value, or restoration info.
Here's the page for that turntable on Vinylengine, with the specifications, including the fact that it has a visual track search mechanism to find songs: Also has the owner's manual for download once you register as a user (free), which should have year of manufacture (early to mid '80s):
http://www.vinylengine.com/library/sharp-optonica/rp-114h.shtml
Searching eBay would be your best source for value; general Google searches of the above model numbers yields various service & parts info.
Regards,
- Bob