VegasDude wrote:
1- If it WERE a Repro.. I would have stated that it was... So why the derogatory doubtful comments on it's Authenticity?? especially from a very fuzzy scanned pic
VegasDude, nobody's trying to be derogatory. Nobody's trying to insult you or your sign. Were just expressing our first impressions and opinions, in a constructive way, based on our experiences and that fuzzy scanned pic that you posted but, yes, we are a little bit doubtful.
VegasDude wrote:
I've collected radios for years.. At one point Owning over 100, including EVERY single model Zenith Trans-Oceanic and Companion Model Made.. Duplicates of many..1 Royal 7000 transistor left to sell, and starting to sell my 30+ Tube TO's / Companions.. Hallicrafters, and StratoWorlds in the mix, including a Rare Alligator 3-BX-672.
Very impressive. I only have a Royal D7000Y and a R-7000 because I quickly sell off any other models of Transoceanics that I find.
VegasDude wrote:
This pic is from my old ebay printout that I scanned on my computer, and tried to sharpen in paint.net..... It's totally obvious that THIS pic is NOT in ANY way, shape, or form, a clearly defined pic that one could judge, or base Anything on...
Totally obvious to you, not to us. Sorry about that.
VegasDude wrote:
I've never understood the hostile defensive attitudes of some radio collectors on forums that I've experienced over the years.... Like bitter left-handed, red-headed step-children
OK, now who's being derogatory here? Personal insults are for politicians and school yard children to throw around, not antique radio collectors.
VegasDude wrote:
It's definitely genuine.. dusty, aged, with a patina similar to the chassis of my Stromberg Carlson 225H I sold a few months back... and the wooden crate it was shipped in shows a similar aged appearance ...... It was a bidding war of 17 buyers... All radio collectors.... Someone asked if it had an authentic dealer issued numbered brass tag... because it wasnt mentioned... and it was Verified....... I sniped it at the last 3 seconds, and won the auction...

It's Definitely NOT A REPRO....... A similar one sold for $999 earlier this year........
Even the best of collectors have been mislead, fooled and conned over the years. Happens all the time. Personally I'm not stating that your sign is a fake or a repro, I'm just questioning how vintage it really is, that's all. All of the
"Zenith - Radio"
neon signs that I've seen were from the prewar era and featured the tubing mounted on some sort of a full sign. Your sign is mounted on a metal buss bar frame which is more like that of the postwar
"Zenith Radio-TV"
signs which were mounted on metal buss bar frames. In short, your sign features a prewar theme mounted on a post war frame. The Z on your sign only has one line while the Z on the "Zenith Radio-TV" signs have two lines. That's where I get my suspicions. Is there's a tag on your sign which identifies who made it and from where? What markings were on the shipping crate.
VegasDude wrote:
It was a bidding war of 17 buyers... All radio collectors....
You know that for a fact. You sure some of those bidders weren't sign collectors or antique dealers.
If this was a window sign, I don't see any bumpers that would allow it to hang against a window. It's certainty not a table top sign because there's no base or feet. If it was made to hang against a wall, bad choice because the framework and wiring apparently show up against the illuminated wall as your photo shows. That certainly wouldn't look very nice or professional, especially if it was displayed in a store or some showroom decades ago. I'm guessing that, judging from the background colors, the neon "Zenith" word is in blue and the neon "radio" word is in red. I have never seen any Zenith logo, sign, or advertisement which featured a blue Zenith logo. All I've ever seen are either black/white, red or yellow Zenith logos, never blue. Zenith would never have officially OK'd such a color for a professional sign manufacture to make neon signs for. The letters aren't very straight and they seem to vary in height.
Typical post war Zenith Radio-TV sign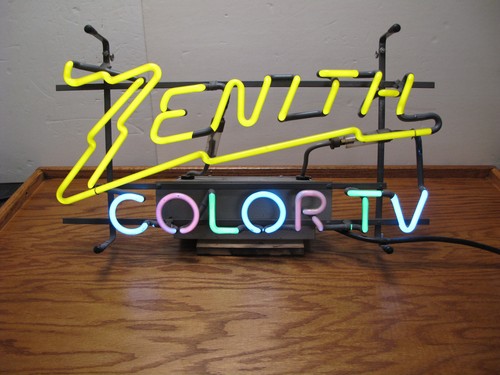 Typical post war Zenith color tv neon sign
Regardless of what the original seller stated and what you happen to believe, I don't think that was an officially commissioned, mass produced, neon sign which was made for Zenith. I'm guessing that your sign was probably made sometime within the past 30 years or so. It was either commissioned by some radio collector or it was made by the collector himself. Whoever built it didn't do their historical research very well. That frame doesn't look industrial made, more like something that was made in a small neon sign workshop. I think you got gypped.