So doing some thinking here it looks like maybe I can use the VEA-684 for the video then add the daughter card which contains the ramp generators to it.
The card will then only be able to drive four outputs though and I would still only need three cards, but I only need one output though as I only plan on driving one display.
I may still look into doing the separate ramp generators though as I'll check the cards to see if I can insert the ramp generator circuit where I want it to be.
Here's some photos
These two photos hopefully show one reason why I am not wanting to use the original ramp generator which uses transistors. If you'll notice the text in the second photo is taller due to the scan lines being spaced farther apart which is a vertical linearity issue.
Attachment:
Attachment:
This is a mostly white display.
Attachment:
This is a mostly dark display.
Attachment:
This one shows why I want to make it VGA to X/Y and not composite to X/Y as the display isn't too good at 800 X 600 with a composite video signal.
Attachment:
Also I installed 75 ohm resistors on all the inputs.
Thought that might be an issue with the video amp and that it might not have enough output, but it worked just fine as I did not need the gain control set to full for the brightest display.
Doing that eliminated pretty much all of the issue I thought was due to a ground loop.
I'm going to perhaps breadoard the circuit first and experiment with 800 X 600 and 640 X 480 resolutions to see which is the best. I'd like 800 X 600 as more can fit on the screen. Just gotta see how small it makes the text.
EDIT:
Now the big issue is this.
The X/Y monitor has an aspect ratio of 5:4 which means I technically can only use 1280 X 1024 and a couple much higher resolutions.
The only reason I can get away with 800 X 600 and 640 X 480 is because the VGA to composite converter converts most resolutions to SD NTSC video.
EDIT:
Thinking about it I cannot really get away with those resolutions as NTSC composite is 4:3 but my display is 5:4.
All I can do is try one of the resolutions and see what works best.
At first I thought finding the horizontal sync frequency for the various resolutions was going to be hard (the vertical is easier as the refresh rate I believe is the vertical sync frequency), but I can simply get a VGA splitter and a VGA to BNC cable then connect the H sync to my frequency counter which should give me the frequency.
I then have to select a cap and resistor value that will make the oscillator run at the correct frequency with it being able to be adjusted properly by the pot.
Now if I knew how to program microcontrollers I could make a simple program that takes the sync signals and adjusts the ramp generators to the proper frequency.
That said is there any sort of simple circuit that would take the sync pulses of any VGA H and V sync frequency and turn it into a proper ramp? If so that would simplify things as I would only need to select the resolution from within Windows.
One option I thought of was to find a function generator kit that can accept a trigger signal, but that was before getting the video distribution box and that basically rules out any sort of function generator kit as I want everything to be kept in the box.
EDIT:
Would a circuit like this work for a ramp generator or will component values have to be changed based on the desired operating frequency? B+ will be 5 Vdc.
https://circuitdigest.com/tutorial/boot ... ransistors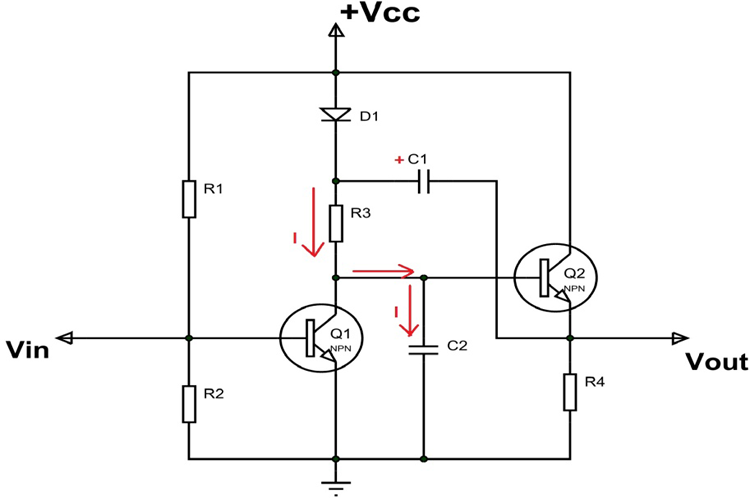 Also what component values should I use? I can breadboard it Tuesday at work and use a function generator set to square wave or pulse to trigger the circuit and see if it indeed does work over a wide range of frequencies without changing any components.