Hi all, I recently picked up a Leslie 21H amplifier on eBay initially with the intention of using it in a Leslie 45. The 45 doesn't use a field coil speaker like the 21H does, so I needed to find a way to replace the field coil resistance. Initially, I used a 50W 2.7k resistor, but I found that it got REALLY hot in operation; like, uncomfortably hot.
Convinced that there was a better solution, I continued searching the internet, and turned up this old topic where a technician named Harvey Olsen suggested using a 39V 5W zener diode in place of the field coil. Here's the relevant passage:
Quote:
The original speaker field coil also acts as a voltage
regulator of sorts by loading down the power supply. Without the coil in the
circuit, the output screen voltage tends to climb. This causes the output stage to
draw more plate current than it should.

In both 6V6 and 6L6 amps the output screen grids should be 39 volts DC
*under* the plates. The easiest way to accomplish this today is to wire a 5 watt,
39 volt zener in series with the 400 ohm power resistor in the B+ circuit. The
zener is installed after the resistor but before the DC takeoff for output
screens. The cathode (banded) end of the zener diode goes toward the screens.
So, I bought the parts and tried it out. My first attempt was an epic failure because I totally misinterpreted his instructions. After replacing the .25 amp fuse and installing a fresh 39V zener diode the *right* way, I tried it out again. I could see the screen voltage rising to a good level as it was warming up, but I also saw the magic smoke coming out of the zener diode, so I quickly powered down, and now I'm here.
Here's the 21H schematic for reference: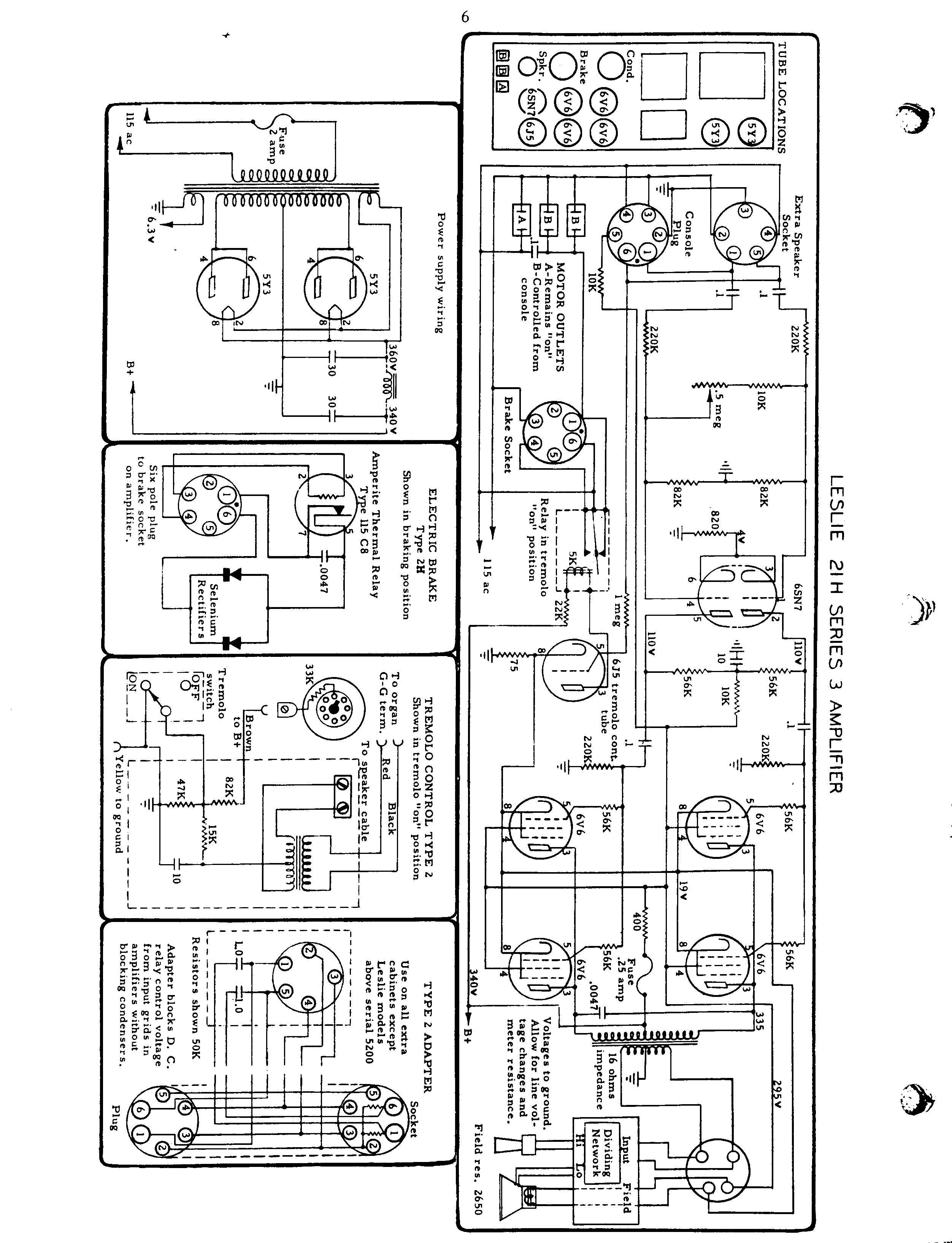 As I read it, the zener diode should basically be connected where the field coil was installed before, with the band pointing toward the line labeled "295V" on the schematic, and the other end connected to the line labeled "19V". Apparently, this is either not correct, or this technique just doesn't work for some reason.
Any tips or thoughts? I feel like I'm missing something, especially since a 50W resistor was barely able to handle that job before. I don't think the current to the screens is that high, so in that way I would think that a 5W zener would be OK, but I'm a little fuzzy on how the zener is actually working here; the theory is that the zener drops 39V from the 335V supply to produce approximately 296V, but every reference I can find on zener circuits would imply that this would be trying to supply 39V to the screens and drop 296V as I connected it.
Thanks!