This German cover page shows chassis CS 260 for the HF 260 console.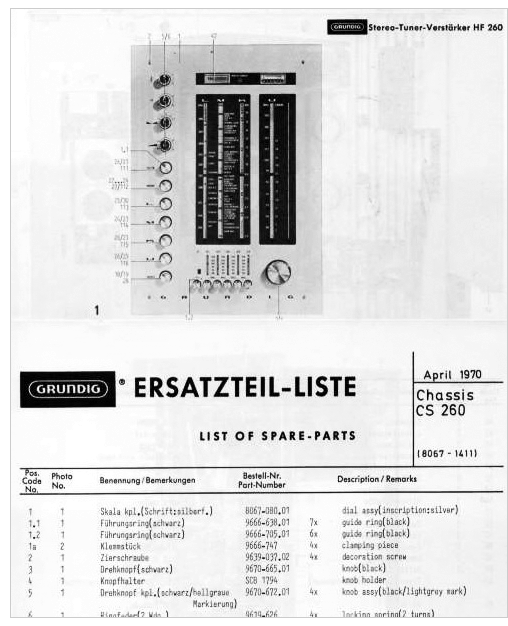 A nine-page service manual for CS 260 (with alignment instructions in French
...
) can be downloaded here...
https://elektrotanya.com/grundig_cs260_ ... nload.html
On the elektrotanya website
▲
...
Wait for the
...processing...
notice to change to
Get Manual
←it takes a while!
There isn't a parts list, but all components are identified on the schematic/s with capacitor and resistor legends shown.
Replace all the 3V 6V 10V 25V etc. electrolytics if you can get to them.
Use 50V (or 35V) rated electrolytic capacitors→
viewtopic.php?p=2804646#p2804646
also, if you are going to keep the radio use 105° rated ones. Lol
leave the... polystyrene, ceramic and foil capacitors alone for now.
Est-ce que tu parles Français
?
Greg.
Edit:
It doesn't look too bad.
When disconnecting interconnecting cables or unsoldering a whole bunch of stuff, label them with masking tape
flags
or directly with a sharpie.
Example: tuner chassis terminal-A to amp chassis terminal-A
B to B etc.
otherwise you'll get lost when it comes to reassembly
...
A digital camera makes a great aide-mémoire.