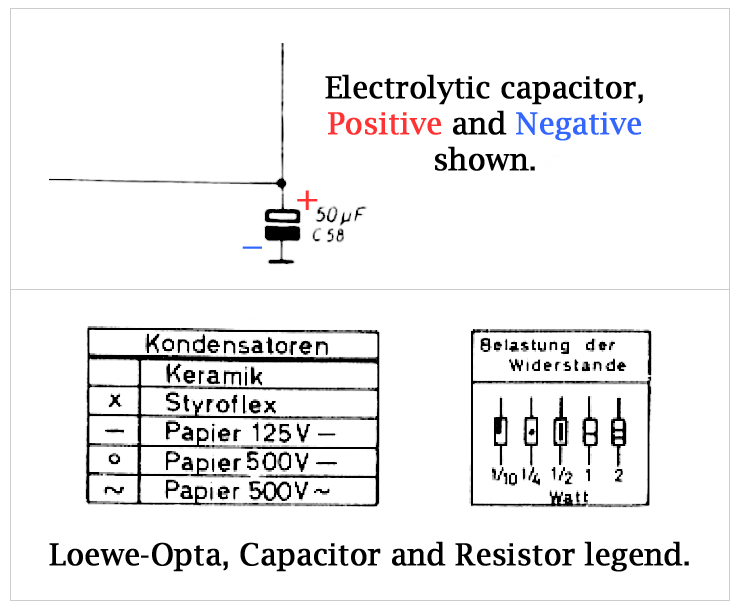 Replace all the Electrolytic capacitors as a first step.
Some of the old μF (microfard) values are no longer common... so choose the next nearest capacitance value, up or down.
Examples: 47μF and 33μF are some of today's common values.
The Voltage rating of an electrolytic capacitor is how much
juice
it can handle.
This can be increased.
Electrolytics are polarized - with negative and positive leads. Mark the negative side in/on the chassis or circuit-board with a Sharpie before removing.
Replace components, one at a time. lol
A handy capacitor conversion chart, can be found via this link...
http://www.antiqueradios.com/forums/vie ... 9#p2920449
------------
Your filter/smoothing capacitor C65 and C66 is a dual (multi-section) Electrolytic capacitor (can - canister)...
containing Two 50μF rated at 350V ←
W
orking
V
oltage.
Disregard the second (test or forming voltage) rating - - it's not too common for it to be mentioned
!
You can
gut
it and restuff it with regular Electrolytics, or you can connect the new ones underneath (inside the chassis). After disconnecting the leads to the old one.
See... Removing and restuffing/rebuilding capacitor cans...
viewtopic.php?p=3108287#p3108287
------------
Other Electrolytics that I can see are...
C63 50μF
C53 50μF
there may be more, you will have to
eyeball
them.
------------
Moving forward...
the wax and paper capacitors should also be replaced.
Also, check resistors by measuring in circuit - - if you get a strange reading, lift/unsolder one leg and measure again. Close enough, is good enough.
German/European capacitors...
Question
: which ones to replace
?
viewtopic.php?p=3123758#p3123758
------------
Ask more questions
...
and... post some photos if you are unsure about anything.
Posting photos to a forum thread.
viewtopic.php?f=2&t=365653
Greg.
oh...
good video tutorials...
viewtopic.php?p=3128591#p3128591