A few weeks back I started on this project with the thread below .. and now it seems like time for a new thread for this update:
viewtop
... highlight=
So here's the latest.
The project was found at RVRLABS' Site and this is what I'm attempting to duplicate:
http://www.rvrlabs.net/page57/page57.html
Here's the schematic that I'm following.
(EDIT update the latest version of the schematic can be found on page 6 near the end of this thread ) or here: http://www.balazsy.com/radio/5902/Peter ... nal-2B.png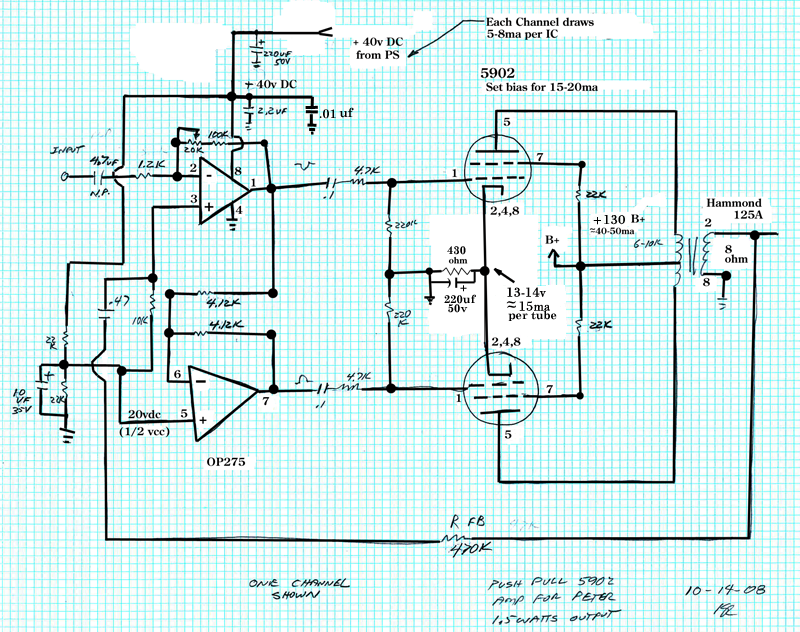 The only change that I made was to replace the individual cathode bias resistors and by-pass caps with a single common cathode bias resistor of 420 ohms.
I don't know if I should be using a bypass cap in the cathode resistor here or not.
I thought Norm Leal indicated that with a single common cathode resistor that by-pass caps aren't needed.
Any ideas?
Here's my finished assembly of BOTH preamp channels on a single tiny 3"x2" perf board from Radio-Shack.
I'm not used to working so small since we usually are digging around these 1940s radios where EVERYthing is ginormous comparatively speaking.
So I simply put on an extra pair of eye-glasses and cranked my solder iron temp back a bit and came up with this little crowded circuit.
I know it seems like there's a lot more stuff on there than the schematic indicates... but I now believe that the schematic was just meant to "trap" you into thinking it's a simple little project!...lol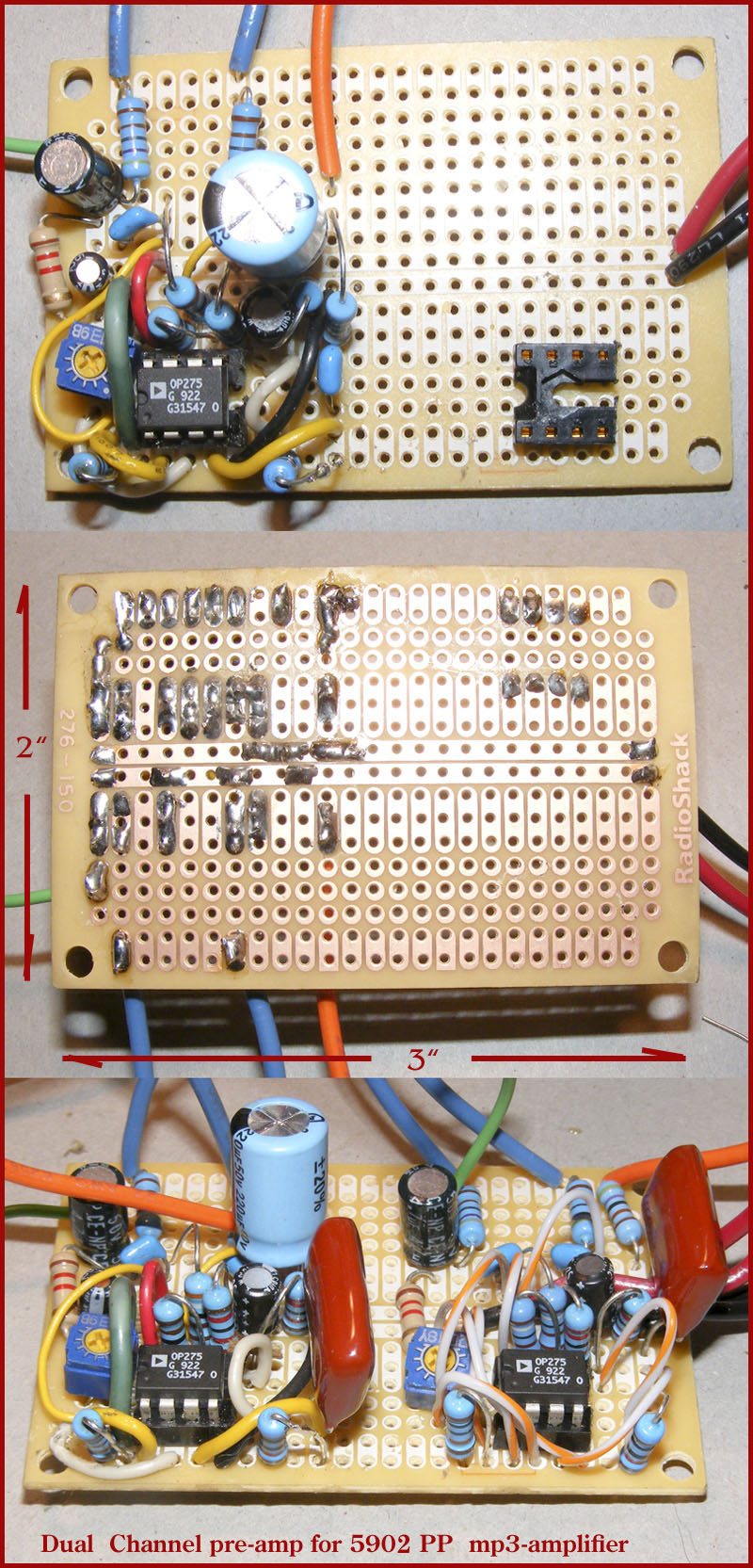 The project, as shown at RVR Labs, did not include a power supply.
So after researching some similar project supply circuits I came up with the following schematic:

Now...I don't know if what I've ended up with is the most optimal configuration possible.... so I'm anxious for feedback from you guys for any ideas that are perhaps more inventive and/or more efficient. ( cooler running and small)
So PLEASE give me your thoughts.
I have not considered this PS final and would love to have a better idea if possible.
Here's the assembled power supply. It seems to run a bit hot (especially the step-up transformer) and so I added a fan to keep it cool.
The total B+ current is only about 80ma and then there's another 15ma feeding the 40v Zener and op-amp loads.
I would rather not have a design requiring a fan but I want to house it in the same wooden box under the tube circuit-board if possible, so I think a fan will be required to circulate air around and out the bottom vent hole anyway.
But here is where I'm open to ideas.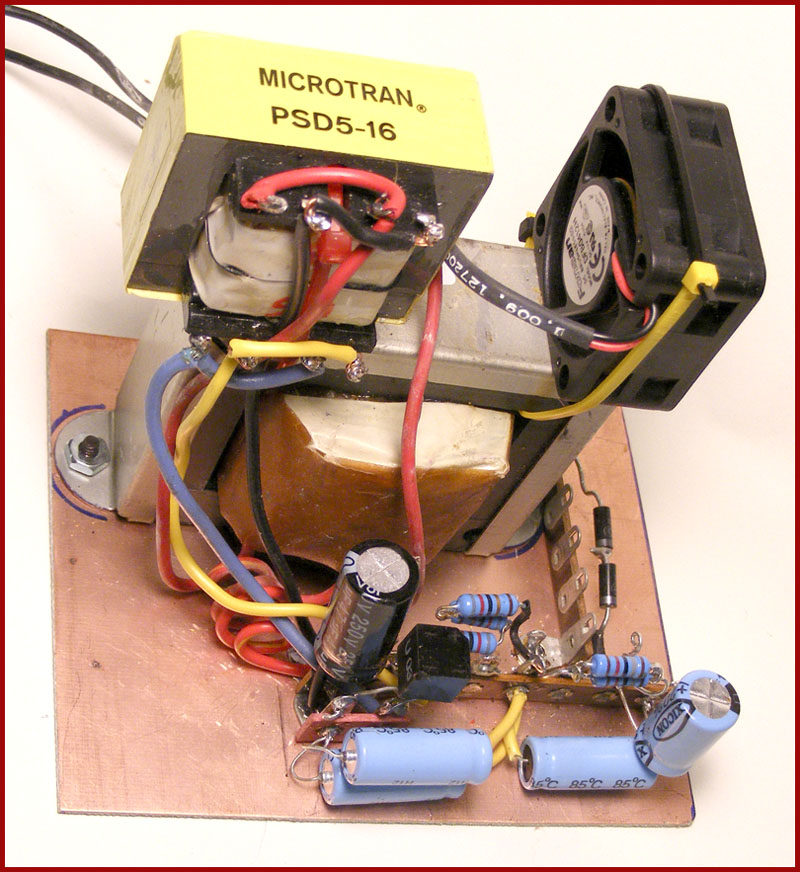 I chose the 2amp Triad
115v/25v
CT because I bought a 1/2 dozen of these on sale last year for about $2 each. It seemed like a good beginning.
I needed a source of filament voltage for the four 6.3 volt 450ma tubes ... as well as two other voltages.
1.
B+ = 150v
2.
Vcc for the pre amp = 40Vdc
Then I bought the Tamura dual-wound 1.6 amp
8v/115v
transformer (3fd-516)
http://www.tamuracorp.com/clientuploads
... FD-5XX.pdf
because I had to step up again to get to my 155 B+
The 8volts is actually 9volts unloaded... so that calculates to roughly about a 13:1 ratio (115/9=12.7)
The Triad will actually put out about 28v CT with a typical 125v input.
So I figured that from CT to one side = 14v x 12.7 ratio = 177v .. or there about.
And that's what I get.
However after thinking about balancing transformer loads.. I decided to leave the 115v windings in parallel... but I put the two 8v windings in series to 16v... because I felt that I'd be drawing a more balanced load from the Triad by taking the whole 28v output.
So that still works out the same :
Since the 8 volt winding unloaded = 9v that means with both 8v windings in series (16v) ... then I'd actually have 18v unloaded.
( 115v/18v= 6.3:1 ratio.... and using the full 28v out from the Triad secondary = 28 x 6.3 = 176v )
I ordered up some copper-clad PC board and cut it to the size I needed for the box of my choice that I'd be using to house the amp.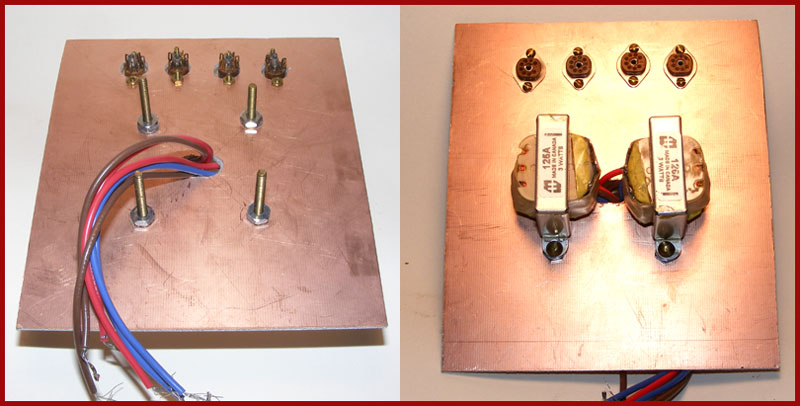 I was able to cut the board with a hacksaw with relative ease.
I had a devil of a time finding some sub-miniature tube sockets and finally found 6 or 8 of them at some remote place on-line and had to pay over$4 per socket plus shipping!
The 5902 tubes themselves, ( also quite scarce) were supplied to me by a very kind fellow ARFer for shipping costs.
Drilling the holes for the sockets was a bit tough for me. I bought the largest drill bit that would fit in my drill chuck. However my chuck doesn't hold very well so it kept coming loose.
Then I still had to ream each hole a bit afterward for the correct fit. I needed #2/56 screws to hold 'em in place so that meant 8 more tiny holes to drill.
Boy do I wish I had a nice drill press...lol
I decided to run all of the output transformer wires through one common center hole. That meant mounting them slightly above the board with a nut as a spacer and then I routed the primary wires
under
the transformers.
Quite luckily, I found a pretty good box at the craft store for only $1.
It's a nice little Chinese-made wooden tissue box cover with a sliding removable bottom panel.
It seemed great to simply turn it over and remove the bottom panel and instead I could slide in MY copper board. That puts the oval tissue-box hole on the bottom making for a great exit-way for wires and airflow.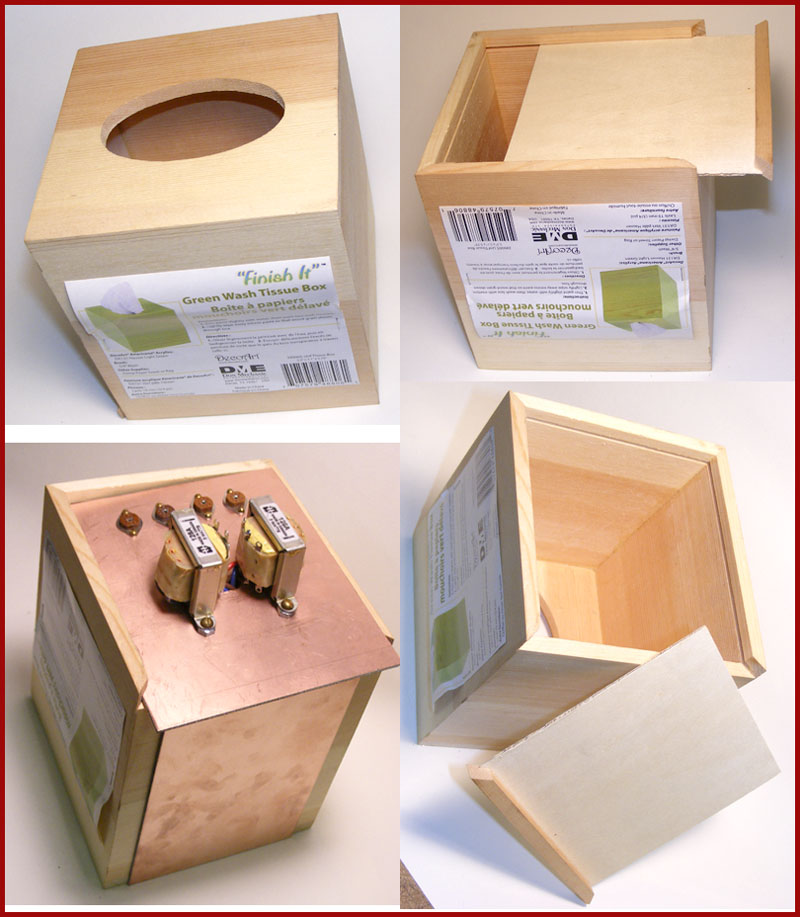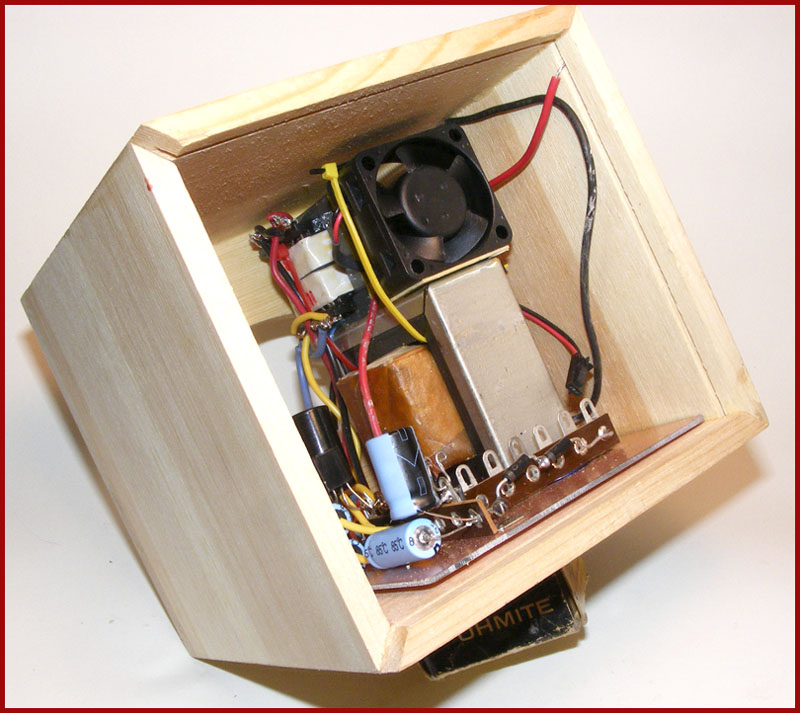 I will be mounting the power switch and audio in/out jacks on another small copper panel on the front-side of the box.
The hardware will not mount properly through the thicker wood so I decided to cut away part of the wood front wall and I will mount another smaller copper panel from a hinge on the main board that will hang flat down against and be attached to the front wall with access to it from the cut away wood section behind it.
I also stained the wood box with some Minwax Special Walnut. It will later receive a nice top coat of polyurethane.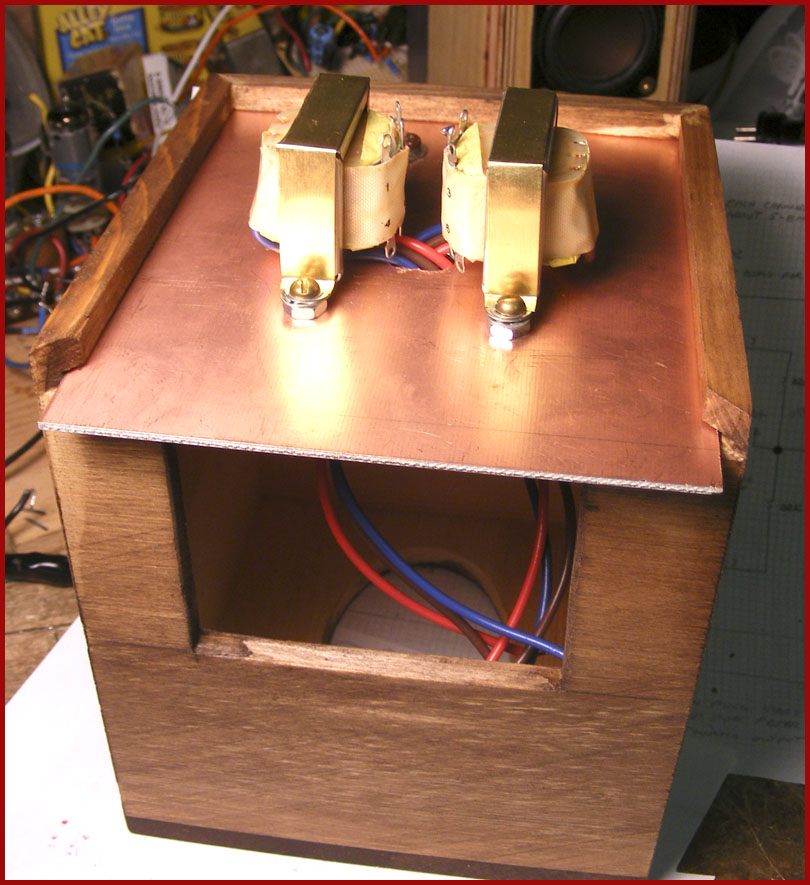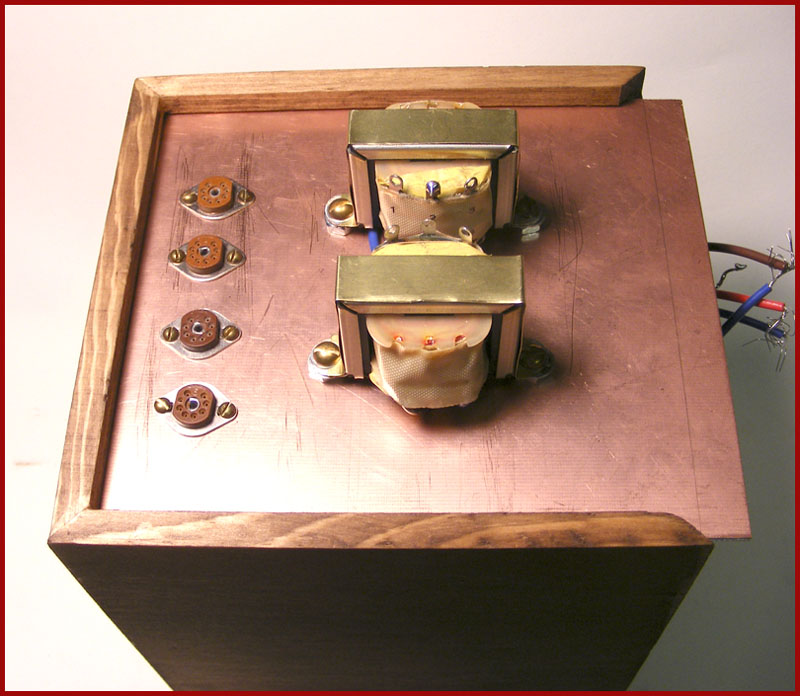 After mounting the tube sockets and building the preamp board it was time to wire and assemble the tube amp components to the socket pins. This was another carefully thought out process as there was little room for error.... especially since I don't have but a few more of these little sockets and I wanted to make everything layout as efficiently as possible and keep lead lengths nice and short as well.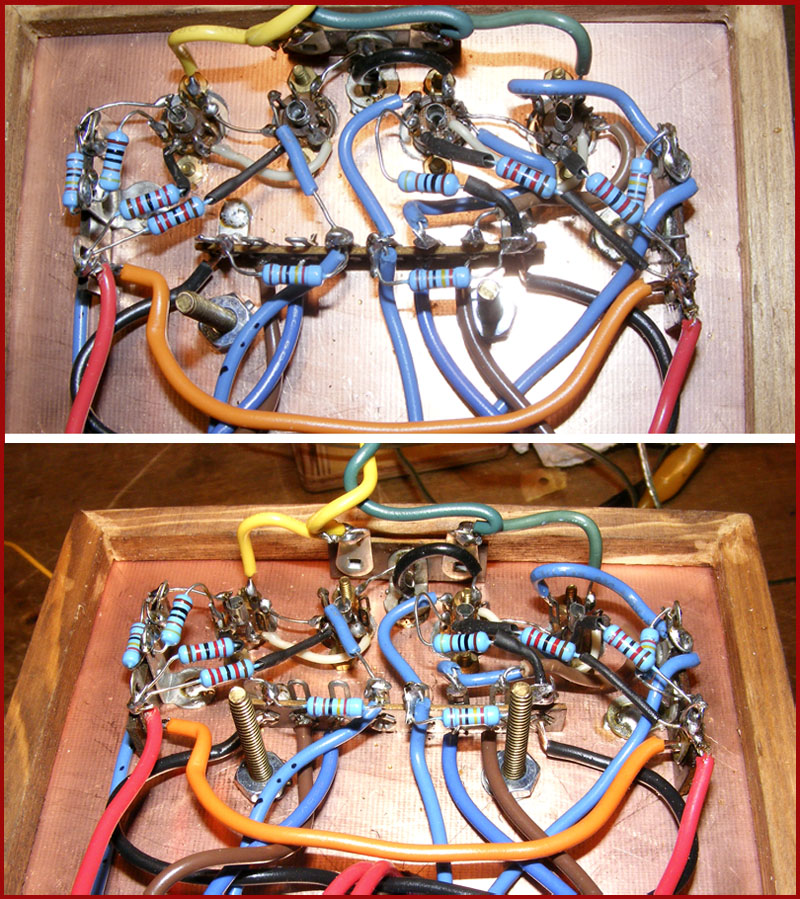 The Hammond transformers are "ok" but for $30 each I was hoping to get a better performer.
In my bread-board test circuit I used a different output transformer.
Typo. Correction follows in Blue:
It was another (smaller) 1 amp dual-wound Tamura 6.3v/115 transformer ( 3FD-412).
I used it as a PP output transformer which performed (to my ear) much better that the Hammond 125A.

I used the two 115v windings in series (230 ct ) and the junction as the CT for B+ input.

Then I paralleled the two 6.3-volt windings for the speaker side.

Remember... to calculate the proper winding ratio.... the 6.3-volt winding actually produces 7.2 volts un-loaded.. right?

( I actually tested the turns ratio of this transformer by putting a 400hz signal in on the 230v side @ 1v rms and measured .0319volts out on the 6.3 volt side. 1/.0319 = 32. Conversely I put .072v rms in the 6.3v side and measured 2.3v rms on the 230v winding side. And calculating that we get 2.3/.072=32 )

[You can measure the ratio with 60hz as well. Just feed in 10 volts in on the primary and then measure the secondary... then divide to get the ratio.]

Anyway... I'm wiring the the two 115 volt windings in series to get 230.. right?
So 230/7.2 = 32 :1 turns ratio.

Since the primary impedance is equal to the square of the turns ratio times the speaker impedance.

So we have a 32:1 turns ratio.
32 squared = 1024
.... and if we use an 8 ohm speaker then 8 x 1024 = 8,192 ohms
This is just about right for these tubes.
When using the Hammond 125A I used taps 2 and 5 giving what seems like the best performance for it with about 8,200 ohms according to the Hammond tap table for an 8 ohm speaker.
Okay..
So, I installed the output transformers and inserted the tubes and fired it up. I didn't like the writing on the top of the Hammond transformers so I cut out some thin shiny brass covers for them to dress it up a little.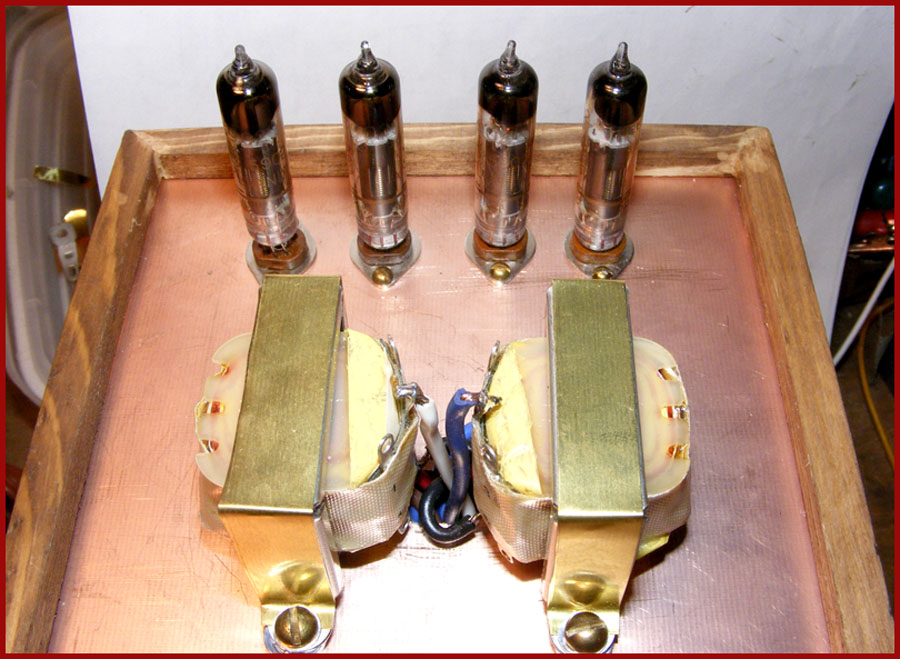 It seems to sound very nice at this point. I still have the little pre-amp board mounted external on the bench right now with long leads ....so everything isn't exactly optimized yet.
As far as heat goes... I would like to operate this, if I could, from wall-wart power sources to keep away all heat from the amp box.
I tried running the filaments from an external 13vDC 800ma wall-wart and it works perfectly... however, as odd as it seems, by removing that big 900ma load from the Triad transformer didn't really seem to cool things down very much at all.
Running with external filament power I find that both the Triad and the Tamura transformers still run hot without a fan.
With a fan connected however the extra filament load on the Triad doesn't seem to matter at all.
It runs very cool.... with a fan that is!
If I could come up with a nice simple way to get B+ from something the size of that 13vDC 800ma wall-wart I'd be happier.
Any ideas?